Chester Housing Authority Nonprofit Awards $1K Scholarship to Resident Going to Widener
Posted by Ceisler Media on Aug 26, 2019 in Press Releases, Uncategorized | 0 comments
Media Contact: 
Kirk Dorn 215-735-6760, 215-704-3653
Chester Housing Authority Nonprofit Awards $1K Scholarship to Resident Going to Widener
This is the first scholarship in a program the agency plans to expand
 (CHESTER, PA, August 23, 2019) –Paul Mays Jr., a resident of Bennett Homes, received financial support for his college education – a $1,000 scholarship to Widener University.
Mays, a graduate of Archbishop Carrol in Radnor who plans to study Computer Science, was presented with the scholarship this week by Chester Housing Initiatives, Inc., a nonprofit subsidiary of the housing authority.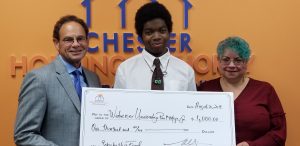 "We wanted to show our support for this young man's education and also get the ball rolling on a new program that we hope can offer 3-5 scholarships each year," said Chester Housing Authority Executive Director Steven Fischer. "We have awarded other scholarships over the years but this is the first from our nonprofit."
Next spring CHA will publish criteria under which residents can apply for a scholarship. Funding will come from fundraisers and donations to the nonprofit, which was created in 2015.
"We support education in any way we can, including after-school programs at our community centers. This scholarship program is another small way we can help," Fischer said.
As for Paul Mays, he will continue to live at his CHA home and commute to Widener where classes begin on Monday.
###